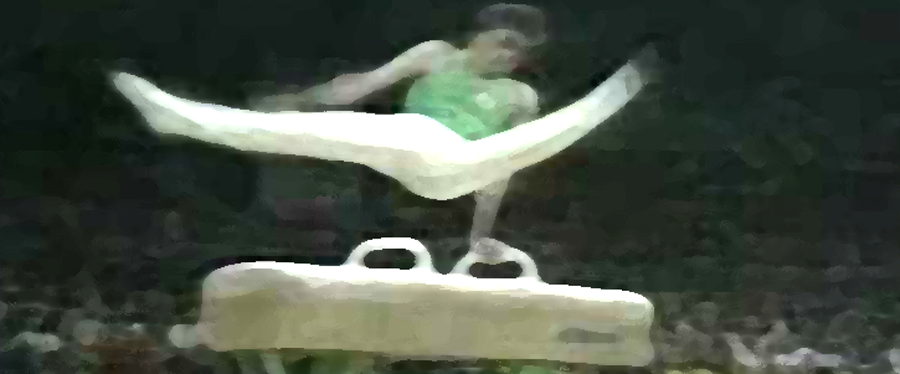 The basic format of the mushroom exercises is intended to keep the routines geared to the average recreational participant. The emphasis is on good circle technique which is reflected in the virtuosity bonus. Levels 4 through 6 are used to progressively introduce each of the different categories of circle skills through the use of specified bonus elements.
Over the past quadrennium, analysis has shown that the great majority of athletes experience a rapid degradation of circle technique when transitioning from the mushroom to the pommel horse. A new approach is to provide a more gradual transition to the pommel horse from the mushroom. For this reason, at Level 7 the gymnast performs the same skill set he has already mastered but on a new apparatus, a pommel-less horse. The benefits of this approach include the ability to continue circle technique refinement and the opportunity to build a more relevant repertoire of skills that can serve as a foundation on the horse for optional gymnastics. The basic format of pommel-less horse routine is designed for the average gymnast while the specified bonus elements offer opportunities for the diverse ability levels of the every gymnast.
Pendulum Swings - While the compulsory program no longer requires competition on the pommel horse in the form of leg swings, cuts, and scissors, it is useful to continue development on this apparatus. See the basic technique on pendulum swings.
Training on pommels - While the Level 7 and Level 8 programs are on a pommel-less horse, gymnasts and coaches are encouraged to start (or maintain) a circle training program on single and double pommels. Care should be taken not to compromise the technique of the circle as the gymnast transitions to pommels. Failure to include a pommel-training program during this time may result in a limited skill repertoire on pommel horse in Level 9 & 10.
Injury prevention - With the increased time and training on the mushroom and pommel-less horse it is important for coaches and gymnasts to implement a proper wrist strength and wrist flexibility program.
---
---
---
---
---
Integral part of gymnastics coaching process are skill drills. They help gymnasts to learn easier and technically correct. With GYM DRILL PRO you will find variety of ideas for the most the basic gymnastics skills. There are plenty of images with skill drill progressions. It is intended to support explicitly the qualified coaches in their daily coaching business. DO NOT practice without the guidance of proper professionals.
---